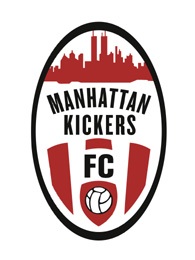 Manhattan Kickers Football Club
Covid-19 Practice Protocols
As of August 12th, 2020. Protocols may be updated as the situation evolves.
General Guidelines
All parents must keep children at home if they have exhibited any Covid symptoms (cough, fever, loss of taste or smell) or have been in contact with any infected person

All practices will be voluntary

Each player will bring their own ball and clearly marked water bottle. Each player needs to bring their bag with items inside and will be instructed to set up 6 feet apart next to team practice area. The player will use this space for water breaks.

Players should be dropped off at the field; parents should not enter the field unless confirmed by the club

Players and parents should promptly leave after training is completed; coaches will direct players off the field so that parents do not enter the space

Team huddles and greetings will observe social distancing; no handshakes, high-fives, fist bumps, etc.

With back-to-back practices, club will maintain a 10 or 15 minute window between sessions to avoid overlapping of separate teams
Responsibilities of Coaching Staff 
Coaches alone shall be permitted to touch equipment, including training cones and goals;

Coaches will be sure their players leave promptly after each training session.

All staff will be educated on protocols and requirements, including state and local regulations, CDC recommendations and other necessary safety information

Coaches will hand out clean scrimmage vests for the players to hold onto and bring to each training. Players will keep the vests in their bags with their water.
Cleaning and Disinfection
Training areas/common equipment will be cleaned with a disinfecting cleaner after each training session

Hand sanitizer will be available for players to use before practice, after, and during breaks.
Travel Quarantine
If any player has traveled to high exposure areas designated by New York State, we ask them to quarantine for 14 days before returning to practice. 

If any player has travelled internationally, we ask them to quarantine for 14 days before returning to practice.
Screening Measures
Before the player's first training, he will be required to bring the signed Covid waiver. The waiver will ensure that no player will attend practice if they have been in contact with a sick person or has symptoms.

The club will check the temperature of each player and coach before entering the field; temperature greater than 100.4 for children and greater than 100 for adults is considered a fever and will require the person to leave, and the return will be done on a case-by-case basis.

MKFC will send out a group email if the club becomes aware of any Covid-related risks to the club (sick player/family member, quarantined school, etc..)

If a player or coach tests positive, the group will stop practicing and will only return after 14 days.

If a player is in contact with an infected person (at school, for example), the player can't return to practice until they are tested or quarantined for 14 days. 
Personal Protective Equipment (PPE) Use/Protocol
Spectators/parents should wear face coverings to drop off the players, and not enter the field area unless asked by the club. If the parents remain outside the field to watch, they should remain socially distanced and wear face coverings when within 6 feet of others.

Coaches, players, and parents must wear masks to and from training, but will not be required to wear a mask while playing.